June 19, 2014 (по моему мнению одно из красивейших мест на Юго-Востоке острова)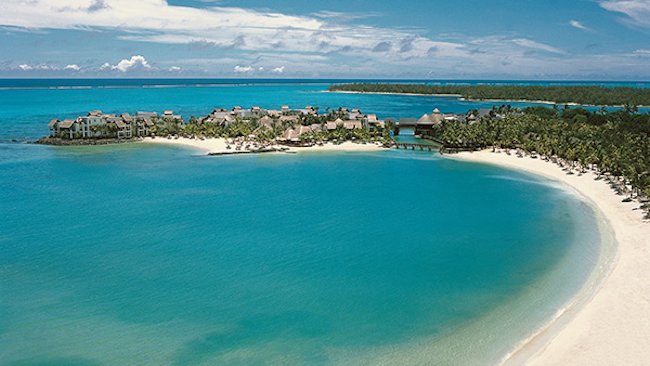 "Mauritius is a jewel in the Indian Ocean with white sand beaches. We are excited about the opportunity to invest in and manage a property such as Le Touessrok Resort, which has a rich history and legendary reputation for superb service. With the addition of Shangri-La's Le Touessrok Resort & Spa, Mauritius to Shangri-La's portfolio, our guests will have another exotic destination to choose from in our growing collection of resorts in Asia and the Indian Ocean," said Shangri-La President and CEO Greg Dogan.
Located on the east coast of Mauritius in one of the island's most spectacular bays, the five-star resort is among the world's most distinguished. It has three villas and 200 guestrooms and suites, all of which have sea views. Along with extensive water and land-based activities, it offers guests access to two islands: Ilot Mangenie, a private, secluded isle with 3.5 kilometres of pristine beach, and Ile aux Cerfs, where the 18-hole, par 72 championship golf course designed by Bernhard Langer is located. "I am very excited with our new agreement with Shangri-La, which sets the basis of our new strategy to form strong partnerships with highly recognized branded international hotel groups, to manage one of our first class resorts. I believe that the long lasting reputation of the Le Touessrok coupled with its association with Shangri-La will enable this unique resort to achieve its full potential and pave the way for a successful and mutually beneficial collaboration for many years to come.» said Sun Resorts Ltd. CEO Philippe Cassis.
The resort will continue to operate as Le Touessrok until it is renovated and then reflagged. It will be Shangri-La's third resort located in the Indian Ocean, joining Shangri-La's Villingili Resort & Spa, Maldives and Shangri-La's Hambamtota Resort & Spa, Sri Lanka, which opens summer 2015. Hong Kong-based Shangri-La Hotels and Resorts, one of the world's premier hotel companies, currently owns and/or manages more than 80 hotels under the Shangri-La brand with a room inventory of over 34,000. Over four decades the group has established its brand hallmark of 'hospitality from the heart.'
The group has a substantial development pipeline with upcoming projects in mainland China, India, Indonesia, Mongolia, Myanmar, Philippines, Qatar, Sri Lanka and the United Arab Emirates.